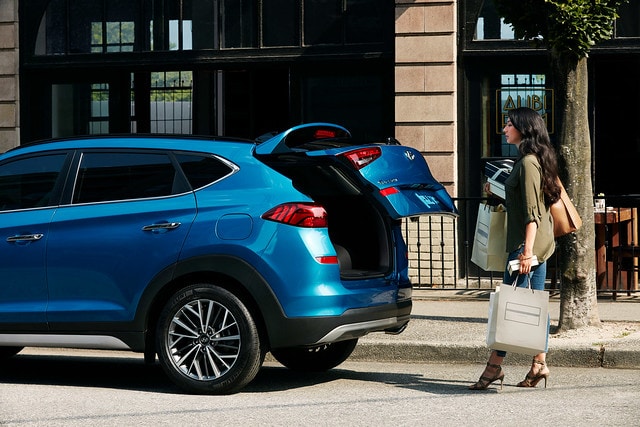 Each year, SUVs and crossovers grow in popularity, and it's easy to understand why. They offer unbeatable versatility and comfort while retaining impressive fuel economy and an engaging drive more akin to a smaller car. Two of the most popular new SUVs on the road today are the 2019 Hyundai Tucson and the 2019 Ford Escape. Both of these modern SUVs are packed with plenty of features that today's drivers depend on, but a head-to-head comparison reveals that the 2019 Tucson is the better choice. Offering a very similar feature set while also coming with a better warranty, better efficiency, and at a lower price, the 2019 Tucson is a no-brainer.
Efficiency
Finally, the 2019 Tucson gets better gas mileage than the 2019 Escape, making it a great choice for anyone who enjoys saving time and money at the gas pump. The 2019 Tucson achieves and EPA-estimated 30 mpg highway, while the 2019 Escape maxes out at a lower 29 mpg highway.*
Value
Not only does the 2019 Tucson save you money in the long run with superior warranty coverage, it saves you significant money up front, too. In fact, the 2019 Hyundai Tucson starts at just $20,950, while the base trim of the Ford Escape starts at $24,105 - a difference of about $4,000 that you could put into upgrading your 2019 Tucson or stash away in a rainy day fund.
Warranty coverage
The 2019 Hyundai Tucson comes with America's Best Warranty. This includes a 10 years/100,000 miles powertrain limited warranty, 5 years/60,000 miles new vehicle limited warranty, and 5 years/unlimited miles 24-hours roadside assistance. The result is a driving experience that offers unrivaled confidence and protection against the routine costs associated with vehicle ownership. The 2019 Escape, on the other hand, falls short when it comes to warranty protection, offering just a 3 years/36,000 miles basic warranty with an additional 5 years/60,000 miles powertrain warranty.
Stop by Hiley Hyundai of Fort Worth to experience the advantages of the 2019 Tucson for yourself.
*EPA-estimated fuel economy. Actual mileage will vary.