How does The Hyundai Blue Link® Connected Car Service work?
Everyone wants to connect to their cars via Bluetooth, Wi-Fi, or device-specific services. As we become more connected to our devices, it makes sense that we want our vehicles to have the same accessibility. This is the very feature that Hyundai aims to address with the Bluelink Connected Car Service feature. If you want to know more about how Hyundai is improving the driving experience, you can stop by Hiley Hyundai of Forth Worth to browse our inventory and test drive a Hyundai with the service.
What is the Bluelink System?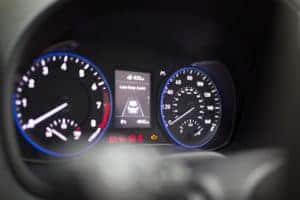 The Bluelink Connected Car system is a way to give drivers control over their Hyundai's functions and features. An embedded telemetric system within the vehicle records information about the vehicle and compiles a monthly Vehicle Health report. The system then contacts the owner's mobile platform to provide information about the car's health and care needs. It also offers additional convenience features, like remote start and remote lock.
You can also use the mobile app to immobilize the vehicle if you believe it has been stolen. Not all models are automatically signed up for Bluelink, meaning they may still be recording telemetric info. Still, the model isn't communicating with your device. To be a part of the system, your vehicle must be eligible to receive a Bluelink Drive Score. You must have driven at least two weeks with 20 miles per week to accumulate enough data to compile a driving score.
Most of the cars available for the Bluelink system are from 2018 and after. If you want to connect your car to Bluelink, you can choose from one of the three Bluelink packages Hyundai offers to eligible cars.
Connected Care
The Connected Care package provides the basics of the Bluelink experience. It helps you take care of your Hyundai without forgetting important dates like tune-ups and regular maintenance. You can set up service reminders in the app to help you remember when you need to make an appointment. Once you need maintenance on your vehicle, you can also schedule an appointment through the app.
The Monthly Vehicle health report and Enhanced Roadside Assistance are also great perks. The Monthly report can be helpful because it can alert you to potential maintenance issues with your vehicle you may not yet be noticing. This can help you protect your vehicle from any lasting damage.
Remote
The Remote package focuses on the aspects of your vehicle that you may want to start remotely. For example, if you are in a heatwave, you may want to start the air conditioning within your Hyundai before you have a chance to sit down. This feature can ensure that your vehicle is always at the right temperature from the first time you open the door.
This remote principle applies to other features of the vehicle as well. You can lock and re-lock your car without walking back across the street to check the doors. Because locking the door is an option from your phone, you don't have to worry about bulky key fobs. This feature only works for cars that allow remote start.
Guidance
The Guidance package is for drivers who are frequently in new places. It focuses on navigation. You can save your favorite locations and send them to your car from my hyundai.com, preparing you for potential road trips of essential stops along your commute. You can also find the most up-to-date locations using the destination search by Voice button on the mirror of your vehicle. This is helpful for anyone who is constantly driving or getting a lot, and it's great if you are planning a family vacation and don't want to forget the places you intend to see.
These packages can help customers pick out the most important features to them. They can also double up on packages to get the most out of all the features Bluelink can offer.
How To Connect Your Car
Before you join Bluelink, you must first make sure that your car is eligible and contains the necessary parts to record the car health information you may need. If you've determined that your vehicle is eligible for the service, you can begin signing up. The first thing you can do is download the app onto your phone.
You can also log onto the Hyundai Bluelink website and make an account with Hyundai. This creates a profile for you within the system, and your car can share information with you from anywhere you have access to a computer.
If you want to use Bluelink to mainly manage your calendar and control the temperature from your phone, if you're going to use the go services, like the remote package, you may want to connect to your phone rather than your computer. Once you download the app, you can create a Hyundai Bluelink account on the app. If you already have an account, you can log in, and all your information should be saved inside.
Inside the profile, you can select the Hyundai model you want to connect to, whether your car, friend, family or rental. Once your vehicle is connected, you can check its status by clicking Vehicle Status within the app. The information there should tell you how well you are keeping up with your car maintenance. You can also select the Remote Start to Start function to adjust the temperature.
You may be asked to enter my Hyundai PIN to secure your app and complete the task. Once you've entered the PIN, your account should be secure, and you can access your car's private information from your device or computer.
If you are looking for a new way to connect with your Hyundai, the Bluelink Connectivity can make your life easier and less stressful. It can also make sure that you stay on top of those oil changes. If you want to know more about the Bluelink Connected Car Service, you can contact us a Hiley Hyundai of Fort Worth.