Hyundai Complimentary Maintenance
Hyundai Complimentary Maintenance Available in Fort Worth, TX
When you invest in a new vehicle, it's important to care for it properly to keep it running smoothly. Whether you drive a sleek sedan, a capable SUV, or a powerful truck, your ride requires ongoing maintenance of its various components. And when you opt for a new Hyundai model, you get complimentary maintenance, which means your vehicle will be well cared for at no cost to you. It's a win-win scenario. Learn more about the Hyundai complimentary maintenance program, including what's included, and why it's so essential to care for your vehicle.
The Importance of Automotive Maintenance
Buying a new vehicle is an exciting experience, especially when you've been saving up and working hard to achieve this goal. Your new ride likely includes a powerful engine beneath the hood and other key components that need care and maintenance to operate properly. Take a look at some of the benefits that come with caring for the car properly.
Longer Lifespan
Keeping up with regular maintenance at Hyundai's recommended intervals can prolong the lifespan of your new ride. Because a new car is a significant investment, it's smart to do whatever you can to protect it and keep it running for years to come.
Lower Operating Costs
Regular oil changes, tire rotations, and other necessary maintenance services can also keep the operating costs under control. Your car runs more efficiently when the engine has fresh, clean oil to maintain the correct temperature and lubricate all moving parts. As a result, you're less likely to deal with a costly breakdown of the engine, which is often the most expensive part of a vehicle.
Rotating and balancing the tires ensures the vehicle rides smoothly. By contrast, unbalanced tires and wheels can impact ride quality and fuel efficiency. You can save at the pump and the tire shop because unevenly worn tires are more likely to sustain damage or blow out, requiring replacement sooner.
Improved Safety
When your car has an issue, it can threaten your safety when you're on the road. A damaged component may create unsafe driving conditions, putting you and those around you on the road in jeopardy. By keeping up with necessary maintenance and regularly checking the systems and parts, you can eliminate the risk of a breakdown and keep driving safely.
Hyundai Complimentary Maintenance Program
It's no secret that every vehicle needs proper maintenance. The benefits outlined above make it clear why you should keep up with the required services on every make and model. And Hyundai is making it easier to care for your ride with complimentary maintenance, which comes on nearly every new model in its lineup. The free maintenance program includes all the necessary services.
Oil and Filter Changes
Engine oil and oil filter changes are covered under the program for three years or 36,000 miles (whichever comes first). Your Hyundai includes oil changes at authorized facilities based on the factory's scheduled intervals. Most new Hyundai models require an oil change at 5,000- to 7,000-mile intervals. You can check your owner's manual to determine how often it needs the oil changed. The technicians who perform these services have undergone extensive training through Hyundai, so you can feel confident that your new ride is in good hands.
At Hiley Hyundai of Fort Worth, Texas, we'll take care of your new Hyundai by performing regular oil changes. By keeping up with this service at regular intervals, you can enjoy better fuel economy and enhanced engine performance while prolonging the life of your vehicle. When performing an oil change, we can inspect the other components to ensure they operate properly. If we find that anything needs attention, we'll talk to you about our findings and recommendations.
Tire Rotations
Rotating your tires regularly helps to extend their life and enhance your vehicle's safety. Although many standard safety systems and features are included in all new Hyundai models, the tires are a key element of the overall safety of the ride. Because they're the only part of the vehicle that comes into contact with the road, their condition determines the quality of the ride and the ability to bring the car to a safe stop.
Failing to rotate your tires regularly causes them to wear unevenly, which may lead to premature breakdown. A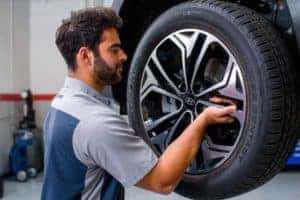 dditionally, worn tires don't provide as much traction, which can cause the vehicle to slide or vibrate when you're behind the wheel. When our technicians perform a tire rotation, they'll make sure the tires are balanced properly before sending you on your way.
Multipoint Inspections
Our technicians can also perform multipoint inspections under the complimentary maintenance program. Every time you bring your Hyundai to our location, we'll inspect all of its components to look for signs of wear or damage. We'll discuss what we find and any recommendations we may have, such as repairing or replacing a key component to keep your vehicle operating smoothly.
Extended Plans Available
Some Hyundai owners benefit from additional coverage that allows for more frequent maintenance services. If you frequently drive long distances or put extra wear and tear on your vehicle due to driving habits, it may be worth investing in extended coverage. Flexible plans are available at the time of purchase and can cover the car for up to seven years or 105,000 miles. Some of these options are also transferable, which can increase the resale value of a Hyundai model.
Hyundai refers to its extended plans as Maintenance Wrap and Scheduled Maintenance Wrap. The latter option may include air filters, coolant, spark plugs, transmission fluid, and other key components, making it an appealing option for vehicle owners who want to keep their out-of-pocket costs under control.
The Hyundai complimentary maintenance program is offered alongside the automaker's warranty, which leads the automotive industry as America's Best Warranty. It's easier than ever to keep up with the necessary services when you know they're provided at no cost to you. If you have questions about what's included or would like to schedule an oil change, tire rotation, or another service with our team, contact us or use our convenient online scheduling tool.