Learn More About the 2021 Hyundai Palisade Calligraphy
The 2021 Hyundai Palisade is a luxury SUV for you and your family. Offering generous seating room, high-quality interior finishings, and a solid engine paired with all-wheel drive, the Calligraphy stands out as the top trim on Hyundai's Palisade range. And with a starting price of under $50,000, it's also an affordable option for those of you looking for a high-quality drive at a reasonable price.
Engine Performance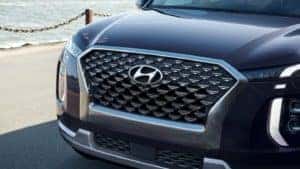 The Calligraphy is equipped with a 3.8-liter V-6 engine that'll give you 291 horsepower. Test drivers have praised how quiet the engine is in the cabin during the drive, and that the engine is capable of accelerating smoothly.
The power is provided by an automatic eight-gear power train, which also comes with Hyundai's generous warranty. On top of that, the all-wheel-drive that is included as standard with the Calligraphy will help you travel safely and steadily, whatever the weather or driving conditions.
External Design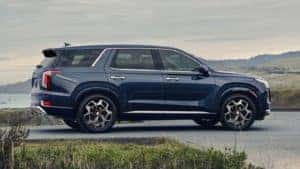 Choosing the Calligraphy means your vehicle has a few external flourishes to give it a higher quality look. The modified lower bumper, for example, extends the chrome all the way along the front of the Calligraphy. The third taillight on the back also extends across the rear roof spoiler.
Your grill on the front is covered in triangles, which is a unique design feature for the Calligraphy. On either side, the headlights sit low.
You'll also get 20-inch wheels. While you can have 20-inch wheels with the limited trim too, which is the trim directly below the Calligraphy in Hyundai's Palisade range, the wheel design for the Calligraphy is different. Rather than the standard five-spoke design, you get a lattice look.
Seating Capacity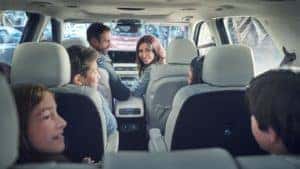 You can seat seven people in the Calligraphy, meaning you'll have plenty of room for a large family or group of friends. The captains' seats in the second row also provide a comfortable alternative to the passenger's seat upfront. The seats are covered in microfiber suede, giving them a classy look.
All four front- and second-row seats are heated and ventilated. Even the seats in the third row are spacious enough for adults to sit in comfortably, which is not something that can be said of all SUVs.
If you need to use your vehicle for transporting cargo rather than passengers, you can easily fold down the third row of seats at the touch of a button with an automatic folding mechanism.
Internal Finishings
The Calligraphy stands out as a luxury vehicle with its internal design. Leather paneling on the doors and wood finishings add a high quality feel to the comfortable seating already described. You'll also like the roomy storage areas.
On top of that, you can rest your hands on a leather steering wheel that can also be heated. The Calligraphy is also equipped with puddle lights, like some other luxury vehicles.
Entertainment and Technology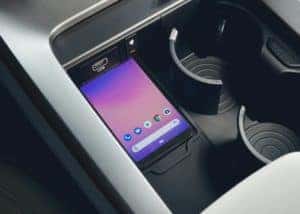 A 10.2-inch screen for your Calligraphy's infotainment system will keep your passengers relaxed and entertained, however long the journey. In addition, they'll be able to keep their phones and other electronic devices charged using the vehicle's seven USB ports and wireless charging pad.
You also get a 12.3-inch screen for the instrument cluster, allowing you to keep an eye on your Calligraphy's performance, fuel levels, and driving routes. In addition, the 360-degree camera system makes parking in crowded places a breeze, even when you're maneuvering an SUV.
Driving Assistance Technology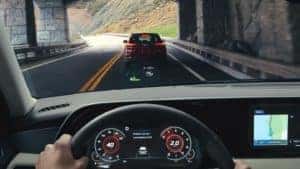 Purchasing the Palisade Calligraphy gets you access to a broad array of assistive technologies. What's more, they all come as standard with the Calligraphy, so you won't have to pay anything extra.
These features include lane keep-in assist and adaptive cruise control. You also will benefit from ultrasonic parking sensors and rear cross-traffic alert to help you stay safe and secure. Another feature is the head-up display, which includes speed limit sign recognition so that you can always be sure you're sticking to the limit wherever you're driving.
When you're driving, you can switch between eco, comfort, and sport driving modes. If you choose the smart driving mode, the Calligraphy will automatically choose the mode most appropriate to how you're driving. You'll notice that the layout changes depending on which driving mode you use.
Fuel Economy
For an all-wheel drive SUV, the Calligraphy performs relatively well on fuel consumption. You'll manage an average of 19 MPG in the city, 24 MPG on the highway, and 21 MPG combined.
Other Palisade Trims
If you don't want to go all out and buy the Calligraphy, Hyundai offers several additional Palisade trims to suit a range of budgets and requirements.
You can grab the Palisade SE, which is the standard trim, for around $34,000. The SE comes with front-wheel drive as standard, although you can add all-wheel drive for a price markup.
The next step up is the SEL trim, which is also available in front- or all-wheel drive configurations. Finally, immediately below the Calligraphy, you can opt for the Palisade Limited if you'd like a touch of luxury but don't want to pay for the whole package. The Limited trim starts at around $45,000.
Warranty
Whatever trim you choose, you'll benefit from Hyundai's comprehensive warranty offerings. They include a 10-year, 100,000-mile power train warranty, five-year, 60,000-mile limited warranty, and three-year warranty for oil changes and tire rotations.
These warranty terms give the Hyundai Palisade the edge over several other luxury brands, whose warranty terms are often not nearly as generous.
So, there you have it! We've walked you through the key features of the Palisade Calligraphy both inside and outside. And we also briefly took a look at the other trims available within the Palisade range. Did we answer all of your questions? Are you now thinking about purchasing a Hyundai Palisade? At Hiley Hyundai of Fort Worth, we're here to help you do just that. If you have any further questions about the Palisade Calligraphy, or you want to get the buying process underway, contact us today to take advantage of our top class, friendly service.