What Is New With Hyundai In 2022?
Hyundai continues to push the automotive industry to new heights. Over the last decade, Hyundai has produced award-winning sedans and SUVs in gas, hybrid, and electric powertrain configurations. In 2022, they enter the pickup truck arena with their first sport adventure vehicle. Hyundai continues to add improved technology to enhance your driving experience.
With so many new vehicles, features, and technology upgrades, it's hard to keep track. That's why we gathered all the details of what's new for 2022 and listed them here. So if you're interested in upgrading your Fort Worth drive with a new Hyundai loaded with ground-breaking performance, chances are you'll find it here.
New 2022 Santa Cruz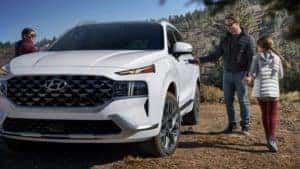 We have to start with the 2022 Santa Cruz, a sports adventure vehicle from Hyundai that combines the performance of an SUV and the utility of a pickup. At first glance, you see flashbacks of the El Camino, the half-car, half-truck built by Chevy from 1959 to 1987. But, upon closer inspection, the Santa Cruz has so much more — in curb appeal, power, and convenience.
Hyundai offers the Santa Cruz in SE, SEL, SEL Premium, and Limited trims. Each trim adds unique equipment and features, yet all remain unmistakably a Santa Cruz. First, you see the bold styling of a full-size SUV or pickup truck with a wide stance and bulging hood from the front. Along the sides, you have chiseled lines between flaring fenders. Finally, where the SUV roofline would typically slope rearward, the Santa Cruz drops down into the bed of a pickup.
You have two engine options. First, the lower trims feature a 191 horsepower 2.5-liter four-cylinder engine that tows up to 3,500 pounds. The upper trims come with a 2.5-liter turbocharged four-cylinder that cranks out 281 horsepower, 311 pound-feet of torque, and tows up to 5,000. Available with front or all-wheel drive, the Santa Cruz offers all the latest in-vehicle tech and advanced driver-assist systems to keep you connected and safe on every adventure.
New 2022 IONIQ 5 EV
The continued expansion of Hyundai's electrified vehicles (EVs) brings us the 2022 IONIQ5, Hyundai's first all-electric vehicle complete with futuristic styling, capable performance, and the comfort and convenience you crave.
IONIQ 5 comes in SE, SEL, and Limited trims, each building on the previous to add style and comfort. You can configure your IONIQ 5 with a rear-wheel or front-wheel-drive. In rear-wheel-drive models, you get a 168-kW electric motor that produces 225 horsepower and boasts an estimated range of 300 miles on a single charge.
If you choose Hyundai's HTRAC all-wheel-drive powertrain, you get a 74kW and a 165kW electric motor to power both axles. As a result, you get the superior performance of all-wheel-drive, 320 horsepower, and still maintain a 269-mile driving range. Moreover, with Hyundai's fast-charging platform, you can add 60 miles of range in only five minutes and charge from 10% to 80% in under 18 minutes.
Redesigned 2022 Kona
In 2022, Hyundai refreshed the Kona, making it longer and wider for more interior cargo and passenger room. In addition, this compact SUV now has more muscular proportions and comes loaded with the latest technology and a 10.25-inch touchscreen to operate it all.
Redesigned 2022 Tucson
Hyundai's popular SUV got a complete overhaul, inside and out. A new modern exterior style delivers a powerful presence. Upgrades to interior features add refined style and comfort, while the latest in-vehicle tech keeps everyone connected. In addition, it comes with a new, more powerful engine and available all-wheel drive for even more capability.
In addition, Hyundai now offers a Tucson hybrid and a plug-in hybrid powertrain configuration. The hybrid powertrain delivers up to 38 mpg, while the plug-in hybrid can drive up to 33 miles in all-electric mode before needing to engage the gas engine.
Hyundai N Performance
Hyundai has added a new high-performance trim to specific models. In previous years, the N-Line trim fit between the SEL and Limited trims and offered performance enhancements for sportier driving. Now, they've taken this approach a step further, creating an N model that separates itself from the standard lineup.
For instance, the Elantra sedan comes in SE, SEL, N-Line, and Limited trims but now features an Elantra N sedan. The N brand rests on three principles. First, to achieve precision control. Second, to offer high-performance driving dynamics like other high-end sports cars. And finally, it is engineered to conquer the track.
Hyundai also created a Kona N and Veloster N for sale in the U.S. Other markets have the Hyundai i10 N, i20 N, and i30 N models, a lineup of hatchbacks. All the N models feature performance-enhanced steering and suspension systems battle-tested at the world-renowned track at Nurburgring.
Turbocharged engines power the N brand, producing superior horsepower and torque than Hyundai's standard lineup. For instance, the Kona N comes with a 2.0-liter turbocharged four-cylinder engine that puts out 276 horsepower and 289 horsepower and pairs with a dual-wet-clutch transmission.
Compare that powertrain to the regular Kona lineup's most powerful 1.6-liter turbo engine that gets 195 horsepower and 195 pound-feet of torque, and you see the N difference. Other enhancements to the Kona N include an electronic limited-slip differential that helps you carve tight corners with ease by sending torque to the outside wheels. The N-tuned electronically controlled suspension system continuously adjusts dampening to compensate for road conditions and driving characteristics.
Driver-Assist Upgrades
In 2022, the base-trim SE on Hyundai vehicles comes with more standard driver-assist features than in previous years. These systems include rear cross-traffic collision-avoidance assist, blind-spot collision-avoidance assist, safe exit assist, and side mirrors with integrated turn-signal indicators. While these systems were standard on the higher trims, they now come standard on every trim.
At Hiley Hyundai of Fort Worth, we're excited about the 2022 lineup. We anticipate the new additions and advancements to separate Hyundai from other brands. If you're interested in learning more about what's new in 2022, we invite you to contact us online. Or, if you prefer a more personalized experience, feel free to stop by our dealership at any time. One of our friendly, knowledgeable staff will answer all your questions, show you the latest features, and let you take your favorite vehicle for a spin.