Hyundai Tucson vs. Honda CR-V
If you're in the market for a new compact SUV, you have plenty of options. Two of the leading SUVs that are worth checking out are the Hyundai Tucson and Honda CR-V. Both vehicles offer a variety of amenities and features that will keep you and your family safe and entertained during any trip. Learn more about the 2020 Tucson and CR-V to see which SUV is right for you.
2020 Honda CR-V
The 2020 CR-V comes in four trims: LX, EX, EX-L, and Touring. Each of these trims is also available in a hybrid version.
Safety
The 2020 CR-V comes standard with a variety of safety features called the Honda Sensing Suite. These features include:
Collision mitigation braking system: If the vehicle detects an oncoming frontal collision, it will apply the brakes to stop quickly, reducing damage.
Road departure mitigation system: In the event that you accidentally drift into another lane, this feature will automatically guide you back into your lane.
Adaptive cruise control: This system allows you to set and maintain a highway speed based on the car ahead of you. When it detects that the car ahead of you is slowing down, it applies the brakes to slow down too.
Power
With all standard CR-V trims, you'll get a turbocharged four-cylinder engine that produces 190 horsepower and 179 pound-feet of torque. This engine can easily handle almost anything you throw its way, and you can even tow up to 1,500 pounds.
The hybrid models have a slightly different setup. In addition to a four-cylinder engine, there's also a synchronous permanent-magnet electric motor. These two engines combined get 212 horsepower, making the hybrid CR-V a powerful SUV that also gets excellent gas mileage.
Comfort
No matter which trim you choose, you and your passengers are in for a comfortable ride. For a luxurious cabin, choose the available leather-trimmed seating and leather-wrapped steering wheel and shift knob. The 12-way power-adjustable driver's seat gives you the ability to perfectly position yourself, while the power-adjustable lumbar support gives you extra comfort during long drives.
Don't forget about the tech the CR-V has to offer. With both wireless and USB charging, you never have to worry about your phone dying. Plus, you can integrate your smartphone to the CR-V's system using Apple CarPlay or Android Auto, giving you access to your favorite music apps, navigation, and calls and texts, all hands-free.
2020 Hyundai Tucson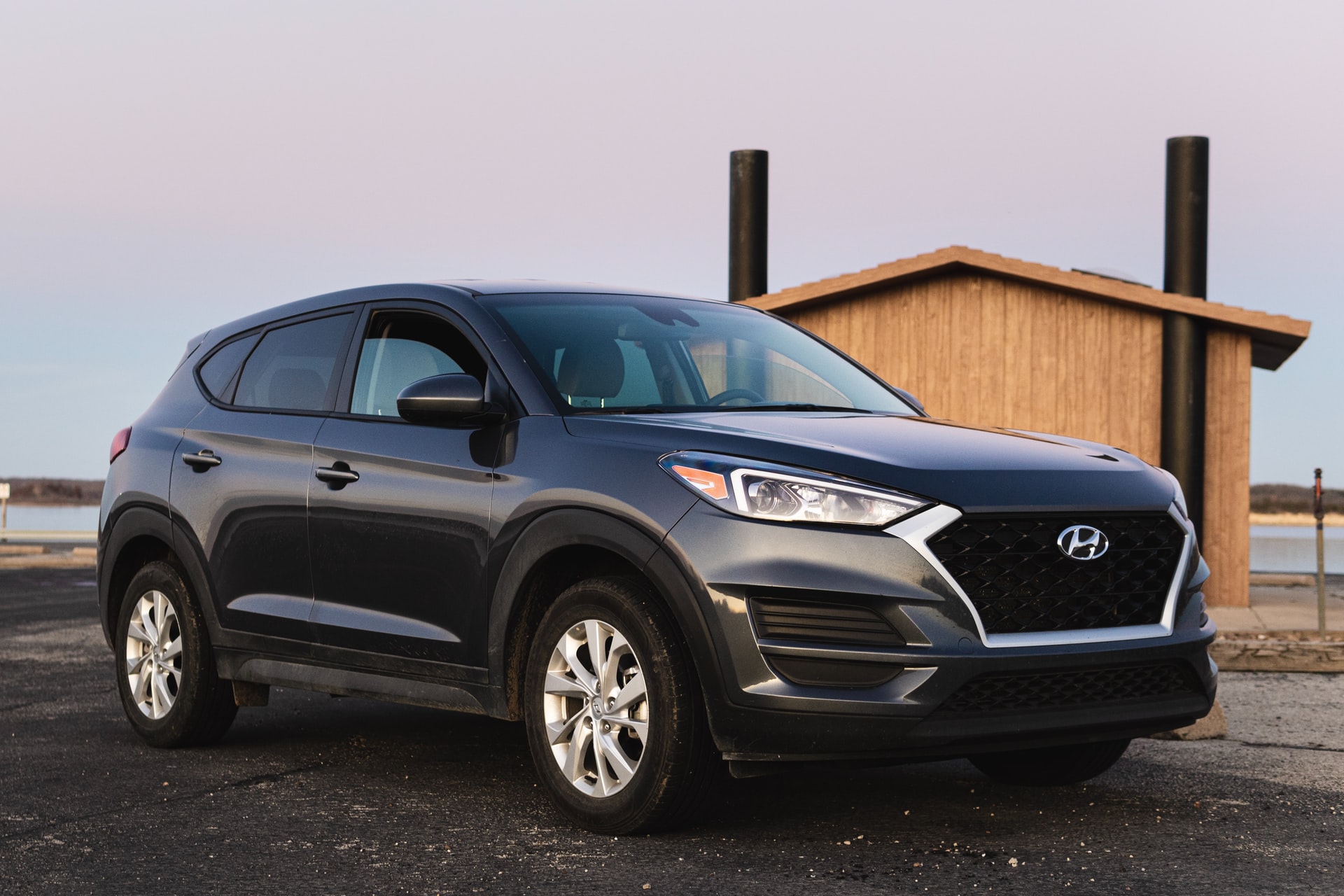 Image via Unsplash by Duncan Winslow
The 2020 Tucson comes in six different trims: SE, Value, SEL, Sport, Limited, and Ultimate. Each trim comes standard with front-wheel drive, but all-wheel drive is available on all trims.
Safety
All Tucsons come with Hyundai's SmartSense safety suite. Some of the features include:
Automated emergency braking: If this system detects a potential collision, it applies the brakes to stop the SUV for you.
Adaptive cruise control: When you set your cruise control, this feature automatically adjusts your speed based on the vehicle in front of you.
Lane-keeping assist: If you accidentally veer out of your lane, this system will direct you safely back into your lane.
Power
The Tucson has two engine options available, both of which offer plenty of power for your next trip. The first option is a 2.0-liter four-cylinder engine that gets 164 horsepower. The second option is a 2.4-liter four-cylinder engine that gets 181 horsepower. Both engines pair with a six-speed automatic transmission, offering solid acceleration capabilities.
Comfort
Cloth upholstery is standard on every trim but the Limited and Ultimate, which have leather seats. The cloth seating is stain- and odor-resistant, which is great for families on the go. Either type of seating is sure to keep you comfortable during any trip.
One of the best parts of the Tucson's interior is the space. This compact SUV seats five including the driver, with each passenger getting plenty of space to stretch out. There's also 30.1 cubic feet of cargo space behind the second row, which gives you plenty of room to pack for any adventure. If you fold the second seat down, you'll get a whopping 61.0 cubic feet of space.
For connectivity, the Tucson has a 7-inch touch screen infotainment system that integrates with Apple CarPlay and Android Auto. The Limited and Ultimate have 8-inch touch screens and wireless charging, making them worth the upgrade.
Side by Side
So which SUV is right for you? Take a look at the features side by side to see how they compare:
Safest
Both the Hyundai and the Honda CR-V have a five-star safety rating from the National Highway Traffic Safety Administration. The single risk issue affecting both is the level of roll-control due to their height. However, both vehicles still earned a four-star rating for the rollover resistance test.
The CR-V and Tuscon also have their own safety suites that include many of the same features. Both have adaptive cruise control, lane-keeping assist, and emergency braking, making these SUVs equally safe for you and your family.
Most Powerful
The Honda CR-V's standard engine just barely beats out the Tucson's, offering 190 horsepower to the Tucson's 164. However, upgrading to the Tucson's larger engine lessens the gap to a nine-horsepower difference. In either case, you're getting a solid engine that can handle almost any adventure.
Most Comfort
You can enjoy similar technological amenities, like touch screens and smartphone integration, with both the CR-V and Tucson. Both vehicles also offer similar cargo space and passenger room, so you'll have plenty of space for your family and your belongings. The stain- and odor-resistant might be a big draw if you have pets or small children.
When it comes down to it, the CR-V and Tucson are both good choices. If you want to see the Tucson up close and personal and get a feel for how it drives, stop by Hiley Hyundai of Forth Worth today. Our knowledgeable associates will help you get to know more about the Tucson and why it's the perfect SUV for you.