What Does My Hyundai Blue Link Do?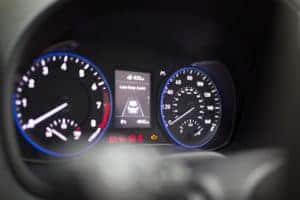 Hyundai goes above and beyond for its consumers' safety with exceptional safety features available across its vehicle lineup. One of the most innovative and beneficial safety features you can find in Hyundai vehicles is Hyundai Blue Link. This feature provides you and your family with unparalleled safety and security. Let's take a closer look at how Hyundai Blue Link works and how it benefits Hyundai owners.
Hyundai Blue Link Has Your Back
Most new Hyundai vehicles offer complimentary access to Hyundai Blue Link for the first three years of owning your new Hyundai. This comprehensive car care and safety package offers you more peace of mind. Emergency help and assistance are provided through the Blue Link service via trained operators, no matter where you are.
A few of the key features include:
Automatic Collision Notification:

When Blue Link detects a collision, your car will automatically send out a call for assistance.

SOS Emergency Assistance:

You will have access to assistance 24/7, 365 days a year, with just the push of a button.

Service Link:

Scheduling vehicle maintenance can slip your mind. With Blue Link, you can schedule a Car Care appointment with your Hyundai dealer conveniently from your car without using a phone.

Monthly Vehicle Health Report:

This report is delivered to your email, informing you about performance systems vital to your Hyundai's overall vehicle health. This information can also be accessed from the Hyundai mobile app for added convenience.
What Is Blue Link?
Blue Link isn't just one thing; it is an all-inclusive package designed to provide safety, security, car care, infotainment, and remote functionality. When used to its full potential, Blue Link reduces distracted driving and simplifies a Hyundai owner's life. When you find that you need assistance with understanding how to enroll or use Blue Link services and features, your local Hyundai dealer can provide you with valuable information and tutorials so you can access all of Blue Link's features.
Integrated Blue Link Buttons
Hyundai vehicles with access to Blue Link services will have designated buttons integrated into the vehicle's rearview mirror. These buttons allow you to access all of the available services when you have an active Blue Link subscription. These services are part of a voice-response menu, allowing you access without the need to take your eyes off the road.
When you press the SOS button, it will immediately connect you to a live agent for emergency assistance. Enhanced Navigation services such as Destination Search powered by Google are activated by pressing the center button. Detailed instructions and a list of voice-response commands are easy to locate in the user manual for your Blue Link services.
The Blue Link Mobile App
Though you don't need your phone to access most of the Blue Link services, you can unlock more features and stay connected to your Hyundai vehicle via the Blue Link mobile app. This application connects you directly to your car with available features such as remote start, remote door locks, and more. You will also have access to additional Blue Link features on your mobile device for a more immersive experience. The app supports all Hyundai vehicles equipped with Blue Link, but an active subscription to the Blue Link Remote Package is necessary to use remote features.
Enhanced Roadside Assistance
Another great feature subscribers to Hyundai Blue Link have access to is Enhanced Roadside Assistance. This available feature works in tandem with the Hyundai Assurance 24/7 Roadside Assistance coverage. When you use the Blue Link button to make a roadside assistance call from inside your vehicle, a Blue Link Customer Care agent will be provided with your vehicle's GPS coordinates. This allows the agent to promptly send out help to your exact location, giving you peace of mind in your safety and security.
What Are the Different Blue Link Packages?
You will find there are three Blue Link packages you can take advantage of in your Hyundai vehicle. These are the:
Connected Care Package:

New Hyundai vehicles

equipped with Blue Link come with a complimentary one-year trial for Connected Care. With Connected Care, you can connect with call center agents 24/7, 365 days a year. Agents can send out emergency vehicles and other services to your location if a collision is detected or you call for help via the Blue Link buttons. Connected Care also grants you access to maintenance alerts and monthly vehicle health reports.

Remote Package:

With the Remote Package, you will have access to available remote services, including remote start, remote climate control, remote door locks, and vehicle location services.

Guidance Package:

The Guidance Package features Destination Search powered by Google, helping you learn more about your local area or a favorite vacation spot. It also enables you to get where you want to go by providing the quickest route to your destination.
These three packages offer convenience, innovative technology, precise location services, safety, and security. A year subscription will cost you $99 a year per package.
Questions or Concerns?
If you are uncertain about any of the services, subscriptions, or instructions on using Blue Link, your local Hyundai dealer can help you sort things out. You can also reach a Blue Link Customer Care representative by phone at 855-225-8354 or via email at customercare@hyundaibluelink.com. When you have questions or concerns, you can contact Blue Link as many times as you need. Customer Care agents are also available to help you with Blue Link services from the comfort of your vehicle when you press the Blue Link button. Other resources you have at your fingertips are the Blue Link Mobile app or MyHyundai.com.
The comprehensive Hyundai Blue Link system is a testament to Hyundai's dedication to your safety and security. Blue Link also allows you to remotely access available features for your vehicle, adding convenience to your everyday life. No matter if you are involved in a collision, have forgotten where you parked, or need to unlock your car for a friend, Hyundai Blue Link is capable. Inquire for more information at your local Hyundai Dealer and take full advantage of what Blue Link has to offer.